The Watchtower has a claim that they are the restoration of biblical Christianity with the following quote:
From 1879, they have continuously published the Watchtower magazine as a champion of Bible truth.
Good News. 1976. p. 153
I believe that if you have read through the posts that are on this website, you will see this is not the case.  The organization that brands itself as being unique and basing everything on the bible is dependent upon other groups both inside and outside Christendom for many things.  The organization is dependent upon Christendom for just some of the following items:
Bible Translations: Kingdom Interlinear Translation (Westcott and Hort), Emphatic Diaglott (Christadelphian) King James Version (Church of England) and the American Standard Version (30 Different Denominations), and quoting from various other translations such as: New International Version, Today's English Version, and other translations through its history.
Selectively using mainstream Christian quotes from various resources throughout Watchtower Literature. 
Non-Christendom:
Paganism: Disfellowshipping
Freemasonry: Dependent for terms and items such as the cross and the crown
Occult: Necromancy
I will contend that when one has various ideas taken from various groups and mixing everything together, splits will ensue.  Why?  There are many different ideas and attempting to integrate them all, it is a recipe in many ways for disaster.  That is what I would like to discuss today.  To start, I'd like to call attention to a chart from Grace Communion International: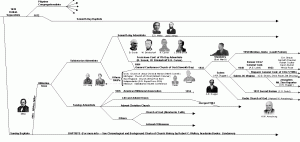 Picture taken from: https://www.gci.org/aboutus/roots 
As you can see the Watchtower Society is rooted with William Miller. 
Grace Communication International is an organization that was a cult that rejected the teaching of Herbert Armstrong and became an evangelical group in the late 1980s/early 1990s.  The Watchtower mentioned Herbert Armstrong with this quote:
Garner Ted Armstrong, well-known television spokesman for the Worldwide Church of God, was recently taken off the air and then excommunicated by his father, Herbert W. Armstrong. The younger Armstrong, who had reportedly been earning $85,000 a year, claimed earlier that the "whole empire is crumbling" due to lavish spending by the leadership, as well as by divisions and fear among the membership.
Awake!  September 8, 1979 p. 29
That is an interesting quote and we'll revisit that later. 
Regardless, the chart that I previously mentioned and previously stated speaks of William Miller and when you look at it, you can see how much the Millerite movement broke and went into different directions.  The Jehovah's Witnesses, formerly known as Bible Students have had their splits as well. 
When one is going to have a split, there are three major reasons behind it:
Doctrine-a number of individuals no longer believe in one or more of the major teachings
Practice-some sort of "new light"
Personality-There is a conflict with leadership or an individual/group of individuals that leads to a new group forming where the majority of the core doctrines remain with a few changes. 
With this in mind, let's look at some of the various groups that formed from the days of Russell.  Some of these groups will still be in existence, others are no longer.  The present day Watchtower Bible and Tract Society stresses numbers, some of these organizations do not at all, some are tough to track down if they do not have a presence on the internet.  However, if they are not "advertising the king and the kingdom" as Judge Rutherford would say, they are most likely multigenerational families with a very low if not negative growth rate.
Russellite Splinter Groups:
Free Bible Students (1907-1908)—This break started with Paul Johnson "calling out" Charles Taze Russell on the New Covenant and how Russell had changed it.  After looking at their beliefs,  I saw the following were interesting breaks from things Charles Taze Russell believed (from the What We Believe page):
19. That the parable of the "Faithful and Wise Servant" is not representative of any particular individual but teaches faithful watchfulness of all who are fully devoted to the Lord and awaiting His return.
They still retain the cross and crown logo.  One of the sister organizations in Africa is adamant against verse by verse bible study and encourages topical study.  The songbook section uses mainstream Christendom songwriters.
No mention of Millennial Dawn/Studies in the Scriptures
http://www.kronline.at/bibelstudien/
Rutherford Splits:
Dawn Bible Students-This is probably the largest group that had the biggest impact. This group had a radio broadcast into the 1980s, produces The Dawn Magazine, still produces radio broadcasts, has a television broadcast in Kenya, resurrected Studies in the Scriptures (except for Volume 7 which they and other groups reject) since the Society stopped printing it in 1927 with the following quote:
Later in the year 1927 any remaining stocks of the six volumes of Studies in the Scriptures by Russell and of The Finished Mystery were disposed of among the public. 
God's Kingdom of A Thousand Years Has Approached.  1973 p. 347
Chicago Bible Students-This is possibly one of the larger groups that actually has a bit of a digital presence.  There is a mobile app and they produce material from Charles Taze Russell today.  They are just outside of Chicago. 
Laymen's Home Missionary Movement-Comes up under www.biblestandard.com   
They state in the  page (Our Work): The LHMM is a worldwide interdenominational, non-sectarian, non-profit-making, unincorporated religious movement, in which many Christian people, especially laymen, of all walks of life, from and apart from various denominations, co-operate voluntarily. There are many chapters in the U.S.A. and abroad.  This group says it's free of any influence but still produces Studies in The Scriptures, the Emphatic Diaglott, and other Charles Taze Russell publications on the Resources page.
Stand Fast Movement (1918)-Rutherford alienated many Bible Students in the Pacific Northwest in the United States/western Canada by promoting the purchase of war bonds in World War I.  These groups were going to "stand fast" against this.  Their publication was called Old Corn Gems. They disbanded in the 1920s: http://www.biblestudentarchives.com/documents/StandFastHistory.pdf
Berean Bible Institute (Australia 1918):  They admit that they formed in 19118.  They cooperate with other Bible Student groups throughout the world.  On their history page, they state the following:  The principal publication, titled "Peoples Paper and Herald of Christ's Kingdom," was initially a monthly publication but is now published quarterly.  It was first published in 1918 and is now published in January, April, July and October each year.  The current format comprises 12 pages of A4 size. 
Like the Watchtower, it is reducing printing frequency as well. They don't produce Studies in the Scriptures but do have a DVD available with booklets.
Pastoral Bible Institute https://herald-magazine.com/
Uses the term "epochs" which is associated with Russell.  Picture from the About Page shows Russell surrounded by people at a train station. Unlike the Society, they have all material available from the beginning on the website.  They still have a radio presence as well in Connecticut, Indiana, and Missouri on Sunday mornings.
Here are some other Bible Student groups: 
Associated Bible Students Of Central Ohio http://www.biblestudents.com/ 
Chinese Bible Students http://www.dawnbible.com/zh/content-zh.htm
Baltimore Bible Students http://www.baltimorebiblestudents.org/  
Lithuanian Bible Students http://biblijos-veliava.lt/
Oakland County Bible Students http://www.bibletoday.com/
Nathan Knorr splinter:
Epiphany Bible Students Association (1956)-Openly says they expand on what Russell said.  They too have everything present from their beginning.  http://epiphanybiblestudents.com/
Present Day:
The True Faith Jehovah's Witnesses Association (1992 in Romania and Ukraine): This is a group that broke away during the Cold War since over Romans 13:1-the "higher powers."  As a result, they only utilize material prior to the 1970s. 
Today, the schisms continue.  The advent of the internet still shows groups are forming.  If you have never heard of Greg Stafford, he was a prominent Jehovah's Witness back in the 1990s.  The difference with him is he was not discouraged from being a Watchtower defender/apologist.  Jehovah's Witnesses Defended: An Answer To Scholars and Critics.  Here is one debate with Dr. James White.
However, the problem is that Stafford formally left in 2007.  He formed a new group called, "Christian Witnesses of Jah."  The origin of this group is seen on the "About" page with the following: The history of Elihu Books took a sharp turn in 1998-1999, when the Second Edition of Jehovah's Witnesses Defended was being prepared. It was during this time that Stafford came to realize that some of the Watchtower Society's teachings were not defensible. Foremost among these for Stafford was the Society's teaching regarding the use of blood.
Gordon Ritchie jointed the organization in 1993.   and immediately started disagreeing with the organization.  He feels that the Society is incomplete with the information because there are mathematical codes in the pages of scripture itself.
One interesting article response is found on the left hand side, third link down.  It is titled: "The Disaster of the July 15th 2013 Watchtower New Understanding of the Parable of the Faithful and Discreet Slave."   
Here's another group:
From the FAQ page you will see the following excerpts:
2. Are you active Jehovah's Witnesses?
None of the 5 partners to this ministry are currently active Jehovah's Witnesses.
3. Are you apostates?
No.  Although we do not agree with certain Watchtower doctrines, we have never apostatized from the Father or the Christ.
7. Are you starting a new religion?
No, we are not forming a new religion. We believe there are enough Christian sects, but not enough spirit-oriented Christians.
10. What is your relation to The Urantia Book?
We are well read in matters concerning the Bible, God, and Jesus. Among the many books in our library is The Urantia Book.
If you are not sure with this publication, here is a summary:
http://www.letusreason.org/Cults17.htm
You can verify this material by going to this page and downloading the Urantia book for yourself. http://www.urantia.org/urantia-book
There are schisms and I've covered those that are external.  However, looking internally, there are fractures and schisms as well. This is taking place in the age of the internet since it is giving everybody a voice for free or just a few dollars each month.  Here is a quote that is not being heeded:
There is no need for any individual, committee, or congregation to prepare a Web page about Jehovah's Witnesses. Some have posted the contents of our publications with all scriptures and references given in full and have even offered copies of convention material on a donation basis. Whether profit is involved or not, the practice of reproducing and distributing publications of Jehovah's Witnesses in an electronic document is a violation of copyright laws.
Kingdom Ministry.  September 2002 p. 8
Here are one website:
Associated Jehovah's Witnesses on Reform of Blood www.ajwrb.org.  From the "FAQ" page:
Q: Why are you anonymous?
A: Questioning the Watchtower Society (WTS) makes us targets. Any WTS member who seriously questions the organization's policies is considered apostate and will be expelled from our religion and shunned by our community and Jehovah's Witness (JW) family members.
Q: Are you trying to draw people away from the Jehovah's Witnesses?
A: No. We are re-affirming their right to remain as members of Jehovah's Witnesses, and to make their own conscientious decisions about the medical use of blood, without control or sanctions from the Watchtower Organization.
Q: Are you trying to destroy the Watchtower Society or depose of its leaders?
A: No. AJWRB has no agenda to overthrow the WTS or to remove the members of the current Governing Body. Our fight is not against men, but against the policy that prohibits free choice of medical treatment for members of the JW community.
Q: Why are you going against the Watchtower organization?
A: We cannot maintain a morally sitting posture. We are convinced the doctrine is erroneous, and feel a moral responsibility to speak out, and do what we can to prevent unnecessary deaths, especially among minor children.
Q: Why didn't you just write to the society?
A: We have made many attempts to correspond with Watchtower officials. We have never been offered answers to the baffling questions surrounding this policy. Some HLC members have been told to drop the issue and question no further. A few members were disfellowshiped after asking questions about the blood issue.
Two things that occur more than once with these groups:
Accepting some sources and rejecting others whether it be Watchtower, Christian, occult.
Instances where the new group is the "true" group.  The Watchtower "lost" its way.
Will the Watchtower Bible and Tract Society make any attempt to crackdown on this?  My personal thought is that they won't do this because the Society is having enough trouble and is losing the battle against so called  apostates very badly.  Websites are created on a regular basis about the Society whether it be focused on some aspect of the Society itself or perhaps a personal struggle.  There are a number of Youtube channels that are created exposing them.  There are informational websites.  There are a number of personal experiences whether it be judicial committees or a personal struggle with a doctrine.  To combat this, there are a number of social media sites where Witnesses are using it "to build up each other" and to "combat the apostates."  I reiterate it's a losing effort based on this quote:
Jehovah's Witnesses have the lowest retention rate of any religious tradition. Only 37% of all those who say they were raised as Jehovah's Witnesses still identify themselves as Jehovah's Witnesses.
http://www.pewforum.org/files/2013/05/report-religious-landscape-study-full.pdf
What is possibly resulting is a growing number of people who are there physically yet not "in it" mentally, spiritually, or emotionally.  They are compelled to stay possible to keep family and relationships with other people since they are discouraged to not have any association with the world. 
Remember I said we would revisit the Herbert Armstrong quote?  Here is is again:
Garner Ted Armstrong, well-known television spokesman for the Worldwide Church of God, was recently taken off the air and then excommunicated by his father, Herbert W. Armstrong. The younger Armstrong, who had reportedly been earning $85,000 a year, claimed earlier that the "whole empire is crumbling" due to lavish spending by the leadership, as well as by divisions and fear among the membership.
Awake!  September 8, 1979 p. 29
Would you consider lavish spending to be building in Walkill, New York considering the organization is supposed to be growing yet is downsizing?  Is the empire crumbling due to the spending with court settlements, information coming out, and divisions?  Is there fear amongst the Jehovah's Witnesses for a variety of things?
Folks, overall, if you're reading this, you have been contributing to the schism as well.  However, I suggest you break free from this organization yet join the body of Christ.  If you've been curious in any way, this is all that you need to do and it's called the sinner's prayer:
Pray: this or something similar:
"Thank you Father for sending your son Jesus, to die for my sins.  I ask that I would receive him into my heart." You pray this, mean it and it will be life changing.  When you do pray this prayer, you have broken free spiritually from this organization and Jesus now in dwells your heart.  From here, I would suggest you break physically and find yourself a good bible believing church.  Feel free to contact me and I will be more than happy to help: watchtowerofjehovahswitness@mail.com