Today was the first day that my friends and myself were able to meet in the past three weeks.  Both sides have had respective engagements that prevented us from "studying" What Does the Bible Really Teach? 
Before we really get into this, I've noticed that only the elder will come as the "lead" and he substitutes if sick with a "brother from the hall" who perhaps he has confidence in that can answer my questions sufficiently. 
As is the norm, they like to interact with the kids by saying hello when they first walk in.  Both are grandparents so they relate as their grandkids ages overlap with my kids.  They had just started The Good Dinosaur movie so the elder asked if I saw it to which I replied, "I haven't."  One of my kids then says, "Grandma and Pappy have it."  So this bought some laughter with us.    
We were to supposed to start on paragraph 21 on page 73, however, they said it was paragraph 17 which is fine as the 21st paragraph was going to be the sticking point and major contention.  The section is under, "All those in the Memorial Tombs."  One thing that is related to this that's been "forgotten" is from Johannes Greber which says the following:
The translation by Johannes Greber (1937) of these verses reads as follows: "Tombs were laid open, and many bodies of those were tossed upright.  In this posture they projected from the graves and were seen by many who passed by the place on their way back to the city."  Aid to Bible Understanding.  1971 p. 1134
What happened in 1983 is the organization stopped using him after being caught knowing he was involved in spiritism.
They asked if I had read the Appendix pages 212-213 that deal with the Sheol and Hades to which I hadn't done yet.  We covered paragraph 18 and I just instinctively used the name of Rahab from a sermon I once heard.  Chatting a bit about that, she was most likely according to the writer of Hebrews and supported by phrases in the Bible, a young woman.  They seemed intrigued so I went on and talked a little further.  I asked if they'd be interested to hear more and surprisingly, they said they were.  So I said, I'd email them the message to them.  Hopefully, they'll actually listen as it's a fascinating message.
Paragraph 19 on page 72 says the following, "What about all the people who did not serve or obey Jehovah because they never knew about him?"  The paragraph goes on to say that every body will get a chance to hit the "reset" button.  Essentially, the Watchtower teaches-if you don't accept the message this time, you can do it again when the resurrection happens.  This is again a direct contradiction of Romans 1:20 but we'll let go. 
The question I asked was this, "What about those who purposely chose to not serve or obey after hearing the message of truth?"  The custodian's husband simply stared at me.  Not in anger mind you but as one who never heard a question like this before.  This was so different since it goes against their "second chance theology."  
Essentially what then happened is the elder said, "well all judgment is done by Jehovah (all judgment given to the Son in John 5:22) and I can't place myself in that position."  While he explained, I looked at the custodian's husband and he couldn't really "shake" the question I had asked.  The elder eventually said, "well, the organization can't have every little thing written down and answered in the paragraph.  It's in Jehovah's hands"
They did their best to tie it in with paragraph 20.  Here's the counter (read I Peter 4:5) and I didn't want to fight this one as I focused on the next paragraph which is where we will focus our attention. 
The paragraph on page 73 says the following, "The Bible also refers to another kind of resurrection, one to life as a spirit creature in heaven.  Only one example of this type of resurrection is recorded in the Bible, that of Jesus Christ."  I allowed them to go through paragraph 22.  At this point, once we answered the questions, I asked this question, "Why does the organization not cover all the verses about Jesus and the resurrection?"  They both just kind of looked at me.  Side note-the organization teaches them some verses on a particular topic, but not all.  I said, you may know where I'm going but let's take a look at John 2:18-21 (I bought this passage up previously). 
John 2:18-21 says the following from the New World Translation:
18 Therefore, in response the Jews said to him: "What sign can you show us, since you are doing these things?"
19  Jesus replied to them: "Tear down this temple, and in three days I will raise it up."
20  The Jews then said: "This temple was built in 46 years, and will you raise it up in three days?"
21  But he was talking about the temple of his body.
22  When, though, he was raised up from the dead, his disciples recalled that he used to say this, and they believed the scripture and what Jesus had spoken.
The other direct account follows: 
Luke 24:36-45 (New World Translation):
36  While they were speaking of these things, he himself stood in their midst and said to them: "May you have peace."
37  But because they were terrified and frightened, they imagined that they were seeing a spirit.
38  So he said to them: "Why are you troubled, and why have doubts come up in your hearts?
39  See my hands and my feet, that it is I myself; touch me and see, for a spirit does not have flesh and bones just as you see that I have."
40  And as he said this, he showed them his hands and his feet.
41  But while they were still not believing for sheer joy and amazement, he said to them: "Do you have something there to eat?"
42  So they handed him a piece of broiled fish,
43 and he took it and ate it before their eyes.
44  He then said to them: "These are my words that I spoke to you while I was yet with you, that all the things written about me in the Law of Moses and in the Prophets and Psalms must be fulfilled."
45  Then he opened up their minds fully to grasp the meaning of the Scriptures,
The last time these verses were brought forth raised a significant negative reaction.  However, this time it lead to a very, very good productive discussion even though at one point I was asked, "what translation are you using?"  The New American Standard Bible was my response (there's virtually no difference here with the verses in the New World Translation).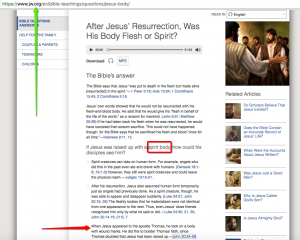 So they pretty much asked me to explain how this can possibly fit with I Peter 3:18 which says in part, "He was put to death in the flesh but made alive in the spirit."  At this point of our relationship and "Bible study," we can all be a little more frank with each other (and there's been a good number of times when we laugh) so I literally said, "the organization is teaching you to see that 'being made alive in the spirit is the same thing as being 'made into' a spirit.'"  Surprisingly, this wasn't argued and they allowed me to continue.  The purpose was two fold here:
Demonstrate that the organization is engaged in eisegisis (reading something that isn't there)

Flatly contradict what was said/they believe with the following statement in the paragraph:

Jesus was alive again as a mighty spirit person! What Does the Bible Really Teach? 2005, 2014 revision p. 74
I was asked by the elder, "would you please explain how a spirit can have a physical body?"  He excused himself to the bathroom.  So for this I again went back to John 2.  Here's the question/statement used with the custodian's husband, "There are two types of prophets, true prophets and false ones."  We both agreed that Jesus was a true prophet.  I said, "Jesus predicted He was going to raise himself back with his physical body." 

The significance of that is this (I didn't openly speak these):
I placed the custodian's husband in a conundrum: Place his belief in the Watchtower Bible and Tract Society or place his belief in the Bible (for these verses, I'd say the New World Translation applies)-either way they plainly contradict one another.  Which one would "win?" The inspired Word of God or a manmade organization?
 If Jesus didn't come back to life with the same physical body, He would be a liar.  Jesus obviously never lied.
To know He would rise on the third day would mean He was conscious which again goes against the belief of "soul sleep" that the Watchtower Bible and Tract Society "preaches."
God raised Jesus from the dead (Acts 2:24, 3:15, 13:30).  Jesus raised himself.  Therefore, Jesus is fully God as Colossians 2:9 says (except in the New World Translation)
I then explained how our bodies are made alive because of the blood that pumps through it (the elder had come back by now).  I contrasted that with "being made alive in the spirit."  I went back into Luke 24 at this point.  For our context, I started with the account of "The Road to Emmaus" (Luke 24:13-35).  Then I was able to really take the time to explain what happened in verses 36-43:
36: Jesus appeared to them as they were most likely in a closed room.  They agreed this was the case.
37: They thought they saw a spirit.
38: Jesus affirms that He is NOT a spirit. 
39: Spirits are not physically handled.  Jesus commands them to touch him. 
41-43: Further affirmation that he is NOT a spirit as He asks for food.  
They brought in how sometimes a spirit can manifest itself physically.  They tried tying this directly to Jesus.  However, I gently reminded them that Jesus said he was NOT a spirit using Jesus' own words.  
I explained that the physical body "powered" by blood has it's limitations.  The body "made alive in the spirit" is capable of more even though it resides in the physical body.  The body made alive by the spirit has some extra capabilities.  At this point, I heard something MAJOR-the custodian's husband OPENLY admitted that Jesus was raised with a physical body.
This led to them asking a little about "what is the spirit within a person?"  This was a question that I wasn't expecting.  If you're not a Witness, they are there to "teach" and you are what they call the "study" so you are to learn.  Taking the time to talk with them about this book and bringing the verses under the guidance of the Holy Spirit has allowed me to build "capital" and today they felt comfortable enough in our relationship that they can now ask me a question so they understand more what I believe.  Side note-I saw a presentation that Witnesses believe that Christians don't really appreciate the Bible.  If that's the case, these sessions we've spent with one another has been steadily eroding this notion.  
I openly stated, "I know at times we see different things in the Scriptures.  I want to take the time to ensure you understand where I'm coming from.  I want to make sure we aren't talking past one another."  (This happens all too often when discussing the Trinity).  They gave an unspoken agreement and I was able to talk about the following verses:
2 Corinthians 4:16 (New World Translation) Therefore, we do not give up, but even if the man we are outside is wasting away, certainly the man we are inside is being renewed from day to day.
2 Corinthians 3:18 (New World Translation) And all of us, while we with unveiled faces reflect like mirrors the glory of Jehovah, are transformed into the same image from one degree of glory to another, exactly as it is done by Jehovah the Spirit.
Romans 8:10 (New World Translation) But if Christ is in union with you, the body is dead because of sin, but the spirit is life because of righteousness. [Note: The New World Translation adds the word "union"]
To give them the floor I asked for them to quickly explain I Thessalonians 4:15-17.  The elder quickly shied away from this as this in part is a "proof texts" that Jesus is Michael the Archangel.  They further said that these verses are "not easily covered."  I let them go and simply reinforced "that those alive shall be changed."  At this point, the elder asked me, "Can flesh go into heaven?"  I said, "I know where you're going, flesh and blood cannot inherit" and laughed a little bit and they did as well as he tried to "get" me.  I then took them back to I Corinthians 15:51, 52 emphasizing the word "changed."  I was able to briefly explain with our blood that would be considered "perishable" and being "imperishable" is alive in the Spirit.  The elder and the custodian's husband both looked like he was "processing" what I said. 
The custodian's husband then spoke what he was thinking, "we have an inner person to go along with the physical."  I said, "yes." 
Time was quickly finishing up as I said I had to get a flat tire fixed but the elder said, "well you know, you're a lot like me, you need to investigate everything.  The main point is this: Jesus died for us, accept him and follow his commands then it's alright."  Again, I didn't wish to belabor any point as he had previously demonstrated he didn't "investigate" these passages which are absolutely crucial and essential to the Christian faith. 
Observing their facial expressions they were processing everything said along with seeds being planted along the way. 
We set our next appointment as I looked at the elder's field service card of his appointments.  I am not sure of how any of his other studies are going (about 12 on his paper) but I can only hope and pray that there's at least one person who might be asking him similar questions within his "territory" to make him question more things for investigation. 
Some last items and I'll be done:
We spend pretty much spent better part of two hours on 2.5 pages.

 

Since they unconsciously elevate Bible "aids" to the Bible itself, they keep coming so long as we talk.  I'll openly admit, it's been an exercise in patience since the "Bible study."  However, patience and persistence has "paid off" as they are now comfortable enough to questions not related to the material. 
We broke with smiles and handshakes.

 

Keeping cordial is absolutely key as they "study" with me.

     

These guys and their spouses are great friends (they lived with the other as a house was being done).

 

They spend a lot of time with one another, hopefully they are more candid and will be asking questions amongst themselves.
The custodian's husband verbally and openly broke with the organization's belief regarding the resurrection (however briefly but PRAISE God) by openly stating to me, "Jesus was raised in a physical body."

 

Significant because that Watchtower veil was lifted at a core belief and said in front of me and I'm not in "Jehovah's organization." 
I'll keep praying and ask you to pray that things will keep progressing.