Hello!
I am writing this as I'm on the mend from a temperature spike to 102.5 degrees.  I'm back down to my normal low 97 degree range.  That being said, I proactively cancelled the meeting with the elder and the custodian's husband.  Although I'm on the mend, there are those in the house who are now getting what I had after it was passed to me.  Out of sheer respect for them and their health (I wouldn't wish this on anyone), I sent them a message that tomorrow (March 4) must be postponed.  With that being said, I'd like to give you an update as to what I've been doing even though I kind of teased things out a few weeks back.  
For the past few months, I've been working on a compilation focused on one word that is frequently used by the organization, "Armageddon."  If you are a Witness you may be aware of the numerous prophetic statements made by the organization throughout its history.  I took a look at it with this post.  With this post in mind, I wanted to do something that to my knowledge has NEVER been done before, compile every single quote dealing with the word Armageddon, looking at things from the days of Pastor Charles Taze Russell to the present day Governing Body.  
My progress as it stands is I'm currently in The Watchtower Announcing Jehovah's Kingdom June 1, 1940.  I'm currently sitting at just over 300 pages.  Once I get through the Watchtower, I will progress to The Golden Age, Consolation, Awake!, and take care of all books, booklets, and brochures.  My guess is there will be in excess of well over 1,000 pages.  One of the great aids that I will have is this page on avoidjw.org.  This is a great "go to" place for the "light" which the organization either considers old or has made the effort to extinguish yet lives on thanks to the internet.  
The goal, once this is completely done will releasing every quote by year on a weekly basis.  This will allow the organization's fascination with this word to live "again" thanks to the internet.  So the question is why "Armageddon?"  My personal feeling is by having the end "just around the corner" the average rank and file Witness will be spurred on to knock on one more door.  As such this image is what comes to mind: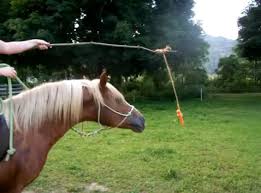 The Society is obviously the holding the carrot and the average Jehovah's Witness is the horse in this case.  This is done to spur on productivity since Armageddon is "soon."  This keeps productivity high yet the results are low.  To demonstrate this, go to the organization's website and download the 2017 Yearbook.  Go to page 177 for the "2016 Grand Totals."  Let's look at some math for baptisms:
1,983,763,754=Total Hours Spent in Field
264,535=Total Number Baptized
7,499 Hours per baptism or 312 days of preaching per baptism
Take a few moments and compare the hours timeframe to that under "Christian Baptism" with
Nave's Topical Bible
.  The organization which claims to teach the "truth" about the Bible needs to significantly cut down the time to match the hours or mere days as described in various Biblical accounts.  
Here's another way of looking at it:
264,535=Total Number Baptized
119,485=Total Congregations
2.2 people baptized per congregation
If you look through the following pages, the top five countries baptismally speaking are:
Brazil=32,978
United States=28,588
Mexico=17,190
Democratic Republic of Congo=15,295
Nigeria=12,904
I personally believe the trends are a sign of future trouble.  The first indication is the United States where the Watchtower Bible and Tract Society is headquartered is in second place.  This is where's Jehovah's blessing should be raining down abundantly.  However, due primarily to internet usage, the Society isn't gaining traction like it once has.  Insulating present Witnesses against going outside the organization's approved resources works for the most part as the elder and custodian's husband will only bring up the official JW Library app when they meet with me.  However, those who are outside and free to investigate quickly see the "truth behind the 'truth.'"  Due to the relationship I've developed with these guys and to a lesser extent the Witness who stands in for the elder, I'm able to bring in non-Witness sources occasionally.  
The second sign is economics:
Brazil is not doing good economically.  
Mexico and the United States are holding but the last two countries are really struggling economically.  Couple this with:
Other countries currencies below the U.S. dollar in the third world where the majority growth is.  Without a specific number, it could take four Witness contributions to equal one person in the United States.  
The child abuse settlements with six/seven figure payouts.
No expense spared building the new headquarters which is yet another failed prophecy:  "Altogether we concluded, after seeking Divine guidance, that Brooklyn, N.Y., with a large population of the middle class, and known as "The City of Churches," would, for these reasons, be our most suitable center for the harvest work during the few remaining years." Zion's Watch Tower and Herald of Christ's Presence.  December 15, 1908 Reprints page 4294
Focusing back on Armageddon and the numbers, I've used Excel to perform statistical analysis on a few occasions.  I'm going to try and do the same when it comes to Armageddon.  My intent is to break the numbers down pretty concisely so you can see the quantitive (numerical) information:
The total number of times the organization has used the word
The number of times the organization has used the word within a particular publication.
Total times per year it's been done.
I'll also attempt to do a qualitative analysis (commentary) at times regarding:
Actions that Jehovah's Witnesses were to not perform as a result of Armageddon coming.
Actions that Jehovah's Witnesses were to perform as a result of Armageddon coming.
Liberal use of equating Bible verses to Armageddon.  
I gave further thought and if you read the post from last time, you will remember that the Nave's Topical Bible has over 20,000 topics within.  I am guessing that the organization has not covered some things during its existence in favor partly due to the Armageddon focus along with topics that it feels is what sets it apart from "Christendom."   
What I am not going to focus on at this time is the term such as "battle of the great day" or any other synonym that pertains to Armageddon.  This is going to be a strict word search as of right now.  So with that, I trust you are looking forward to this bit more.  I may possibly expand to include other things that are used by the organization where it is something synonymous with Armageddon.  Additionally, I am looking at possibly including Armageddon artwork that has been used as well at some point.   
On the other front regarding the Watchtower, there was a recent case that "hits home" due to my proximity (45 minutes away) is the Stephanie Fessler case.  If you're not aware, she was a Jehovah's Witness who was a victim of child sexual abuse.  If you frequent www.jwsurvey.org at all, there is an EXCELLENT account of actions that happened in the court of law.  Here's the links you can look at:
I will let you read to draw your own conclusions but I still find it highly odd that this organization that has been disfellowshipping people for smoking since the 1970s for self-harm allows an adult to harm children, whether they be extremely young to those who are older and an "adult" in terms of physiology yet still impressionable psychologically.  I covered the Watchtower and Children previously that you may wish to take a look at. 
With that being said, I will hopefully be able to meet with my JW friends next week to continue our "study."