Saturday was supposed to be another meeting after nearly two weeks.  This is out late as I've been working hard physically and now that I'm slowly trudging to 40, physical work takes a toll on me since I now work an office job.  I still enjoy hard physical labor though.  Prior to the pipe going inoperative, I was looking forward to meeting with the elder and the custodian's husband.  Theology aside, I believe they enjoy sitting with me more often than not.  We can sit and chit chat/lament at times about various aspects of life.  If nothing else, I get the sense they do enjoy interacting with someday from "Christendom."  Given that I've not slammed the door in their face or become argumentative with them, I again say it has earned me much in the way of good will.  Regardless, I did have a problem as you can see from today's heading.  Here's what I had to deal with: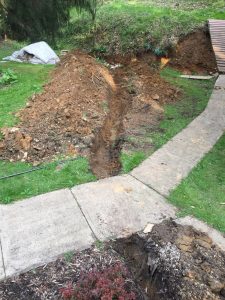 This problem started with a pipe that you don't see.  This quickly got serious given the plumber who came out had his pipe snake snapped in half.  The plumber and his older brother (who's the owner) are friends of mine that I worked with 16-17 years ago when I was in college.  He (the younger brother) simply said, "get a backhoe, dig a trench, and put the new pipe down." 
My neighbor who lives across the street from me has given essentially free reign to use his equipment.  I went, asked, and he obliged.  Grateful I was.  He simply said, "you'll figure it out" referring to operating the backhoe.  A half hour, off to the races and I got my groove established for digging the trench so I thought.  If you look again at the picture, you will see I didn't dig a straight line.  The trench is filled in and now I just need to get some topsoil laid.  Let's apply my situation to the Watchtower Bible and Tract Society now. 
Everything looks just fine on the surface.  Under the surface, things just don't "flow" right.  If you are a Jehovah's Witness, how often do you stop to consider how much the Society throughout its history has talked about "Christendom" falling yet continually relies on it?  Open up your JW Library App and you have access to the American Standard Version and King James Version of the Bible.
This website that I maintain deals predominately with the ellipses that the Watchtower Bible and Tract Society has used (or misused) to give it more credibility in the reader's eyes. 
So I want to ask you this question, what kind of Jehovah's Witness are you?  Do you accept everything or are you willing to "get your hands dirty" when it comes to information presented by the Watchtower Bible and Tract Society publications.  Since you as a Witness will either accept or reject what is said, what quote is more applicable to you?  Read below:
Since we do not want our worship to be in vain, it is important for each one of us to examine his religion.
We need to examine, not only what we personally believe, but also what is taught by any religious organization with which we may be associated. 
The Truth That Leads To Eternal Life.  1968. p. 13
Or are you this individual:
Approved association with Jehovah's Witnesses requires accepting the entire range of the true teachings of the Bible, including those Scriptural beliefs that are unique to Jehovah's Witnesses.
The Watchtower Announcing Jehovah's Kingdom.  April 1, 1986 p. 30
Since the Watchtower Bible and Tract Society draws "everything" from scripture, let's refer to that as the final authority.  The New World Translation renders I Thessalonians 5:21 in this fashion-Make sure of all things; hold fast to what is fine.
So essentially we have two quotes by the Society.  Looking last at Scripture we can glean that the Society is in agreement in one instance.  The other instance, it is not.  This means that the Society's claim of Bible based teachings isn't entirely true.  What will you do?  Like my yard, are you willing to do the work or are you going to allow someone else to do it for you? 
With that in mind, I'm looking forward to rescheduling and getting through What Does the Bible Really Teach?